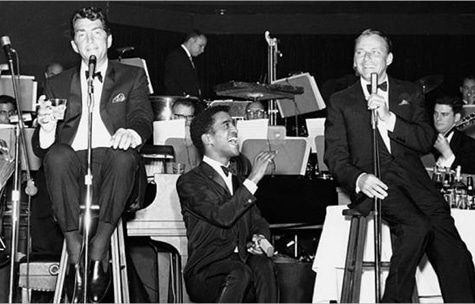 Big week coming up as The South 40 takes the show on the road to Las Vegas. (Insert Bing Crosby/Bob Hope song parody here.) I've about 98% convinced myself on staying the extra week for the Rickles show, btw. It will take some tight budgeting, but I think I can do it without dipping outside the vacation fund. Staying out of casinos will be the key. Or alternatively hitting it big in the casinos will solve all of life's little problems.
I'll stick with Plan A.
I want to look my best while I'm there so I upgraded my wardrobe with a couple DKNY tailored suits. In Las Vegas you'll find the
gambit
gamut of fashion from bedazzled sweats to tailored suits anywhere on The Strip anytime of day or night and that's OK. But I want to be on the higher end of that scale this time. This trip has an old school Rat Pack feel to it. Fear not, I will be rockin' the Tommy Bahama shirt and khakis most of the time. There's also a Tommy Bahama outlet at the mall in Pimm about 30 minutes south of Vegas so I can resup on casual wear.
While doing some research on men's style (you don't think I want to look like a schmuck) I stumbled across this fantastic website,
The Art of Manliness
and their tips on doing Vegas like a gentleman. They have a lot of great tips on many subjects. I probably should have read that before I chose black suits. But I look good in black and my last suit was from K&G over 10 years ago. It was time for an upgrade.
The plan so far is to leave Tuesday and make some miles. West Texas is flat and dull so we'll skim over that and push thru to Albuquerque. I'll do some Breaking Bad shots there then head for Petrified Forest National Park. It's one of the most underrated National Parks. Admit it, you forgot it existed, did'nt ya? Well, it does and unless the sequester has the place locked up I plan on taking some pics to prove it.
From there it's on to Meteor Crater which is not a National Park and will be open, then on to the girl in a flatbed Ford in Winslow, Arizona, Hoover Dam and the final destination Sin City on Friday/Saturday. It will be a long drawn out schedule with a lot of planned and unplanned stops, but the photos will be worth it.
Don't forget you will see the good, bad and ugly.. well maybe not so much the ugly but you get my point. Lots o' pics right here in fabulous high fidelity South40Vision.
Stay tuned.