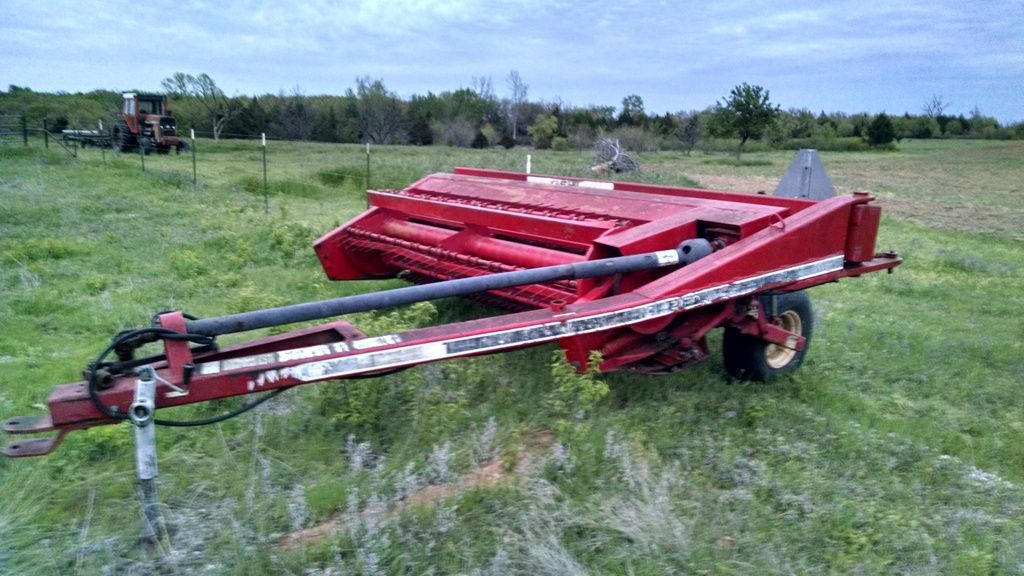 Saturday started out in the rain at 9am unhooking the swather from my tractor and hooking it to my F350 to tow over to my BIL's welding shop. Spent 30 minutes looking for my new $18 gloves. Finally gave up, then found them sitting on the tongue of the swather soaked like a sponge (been there all night, 3 1/2" of rain). It was a sign.
As you can see from the picture the tongue is on the left end of the swather and even in the fully retracted position it tracks FAR to the right. I g
et hooked up and make my way at 25mph taking up all my lane and 1/2 of the oncoming on the hilly, twisty FM road cheating death and dodging idiots not paying attention all the way. About a mile out of Alvord I see one of the old rotten implement tires going flat. I ran over something in the ditch when I had to scoot over for a truck.
I barely make it to the County maintenance barn driveway before it rolls off the rim. I pull out my 4-way and bottle jack but for some dumbass reason I decided to clean out the bed of my truck a couple weeks ago and took all my wood blocks out. I look around and scrounge up a couple rocks to put under the jack so I can unhook then start to jack up the flat. Problem. Bottle jack is too tall to fit under the bottom of the leg and the leg is angled up for a couple feet. I need blocks to reach a safe jacking point and we've already covered that.
I leave it sitting on the side of the road and drive on over to BIL's and steal a wheel off his square baler and a shitload of blocks. We head back to the swather, pull the flat off and then he tells me it's the wrong bolt pattern (we'll revisit this point). His baler is an 8 lug and my swather is a 6, I'm going to need a tire.
I leave it again (this time sitting on blocks) take BIL home, then head to Decatur in search of a tire. I get to the tire store at 12:05 and everybody is looong gone. Same thing at McMaster New Holland. I go to Tractor Supply and the closest thing they have is a skinny front tire for a 9-N Ford (no worky). I call AgVantage and they don't even carry tires. Great farm stores ya got there.
While I'm leaning against the tailgate of my truck trying to think of somewhere I can find a tire after Noon on a Saturday I look at my wheel laying next to BIL's wheel. They are both universal and will fit either a 6 or 8 lug pattern. I should have looked for myself when he said it wouldn't fit. I head back to the swather, put the baler wheel on and finally make it to BIL's. It's 3:30 and he has to be somewhere at 4.
At least it's sitting at the welding shop and it isn't leaving until it's fixed.
Unfortunately I'll have to buy 2 new tires to get it back home.