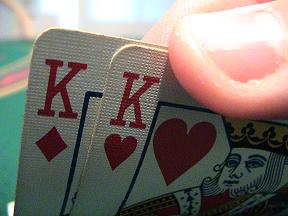 I went to Winstar World Casino last night to see Terry Fator. It was a great show and I snagged 3rd row center seats! Terry won America's Got Talent 4 years ago and hasn't looked back. He puts on a great family friendly show. If you get the chance to see him, don't pass it up.
After the show I headed over to Toby Keith's "I Love This Bar" for dinner. I was less than impressed, but I didn't set a high bar for the bar. The food was passable, but overpriced as you would expect.
After eating I headed to the Poker Room and joined a $5-$10 Texas Hold 'em game with $400. The cards were ugly for about 30 minutes before I decided to make lemonade. I bluffed 2 hands in a row and was playing it cool. 1 guy got upset when I mucked my hand after he folded. I told him he didn't pay to see them and that didn't set well with him.
The next hand I got pocket Kings and the flop was King, Ace, Jack. The turn was another Jack and the River was a 7. I was sitting on a Full House and went all in for $750. The pot was around $500. The guy that I had just beat called. He had 2 pair, Aces and Jacks.
He paid to see them this time... Read 'em and weep. Full boat, Kings over Jacks.
I tipped the dealer, stood up from the table and headed for the cashier. That guy
REALLY
doesn't like me now.