Figured this was a good day to do things I'd never done. You never know when you'll get a second chance. Let's all be honest with each other, the odds get worse every day. I'd never tried Johnny Walker Blue before and figured today was as good a day as any to find out if it lived up to all the hype. More on that later.
I'd never done a Crawdad boil. In fact I had 2 USDA Prime ribeyes bought for dinner at Mas Meats in Bridgeport. If you ever want a great steak (not good, not pretty damn good but f'n GREAT) go to Mas Meats.
I decided to swing by Brookshire's to grab my veggies for dinner and that turned out to be a game changer. After getting my Bakers and a bag of salad I wandered by the meat market and they had live crawdads (crayfish/whatevs) while they last for $1.99/lb. Gimme 5 lbs!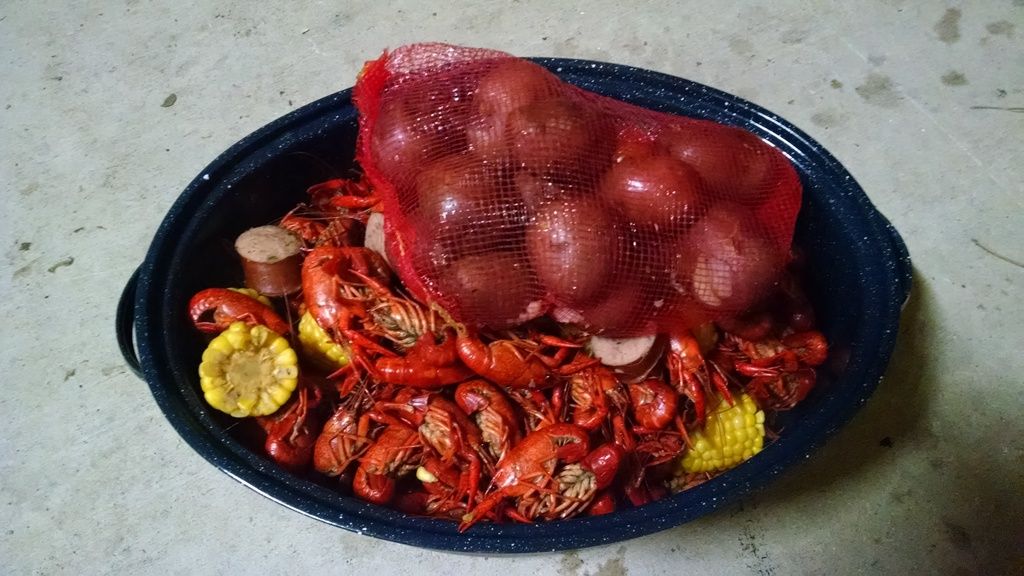 Let me tell you they boiled up rite nice! I used Zatarain's Pro Boil, 3lb bag of red potatoes, 3 ears of sweet corn and 1lb of Earl Campbell's jalapeno smoked sausage (that's the secret!). There's a LOT of waste (approx 75%) so the 5lbs was just about right for 2. I forgot to mention Brother In Law stopped by to wish me Happy Birthday. So everything worked out better than planned.
Oh. I almost forgot to give you my critique of Johnny Walker Blue. Over. Rated. I haz disapoint.
I'd rather have Glenlivet 18 year old. Cheaper and better whisky. But I have to admit this bottle was destined for me.