Tonight's cold open featured Jason Sudeikis and Cecily Strong as Carnival Cruise Directors on the Triumph trying to brighten the spirits of passengers. Ships comedian Reggie Davis (Jay Pharoh) broke down in the middle of his act, "There's dookie on the walls!!!".
Searching for good news to brighten spirits from the paper "North Korea tests nuclear bomb/ Pope resigns/ Remember the blade runner in the Olympics?" didn't turn out well either, but "Hey at least you're not part of the 4,00 people stuck on a nightmare cruise. Woops, That would be about us."
Next, mentalist Victor LaStrange (Bill Hader) asked for a volunteer from the audience and made him think he was a chicken. When brought out of the trance the passenger lamented "Dear God no. I'm back on this God forsaken boat. Turn me back into the chicken!!!"
The Cruise Directors then went down the list of areas on the ship that were now official toilets (including most of the ship) before introducing zoologist "Dan The Animal Man " (Bobby Moynihan) who walked on stage with a small skeleton "Who ate Koko?!?!?"
They also reprimanded sunbathers for spelling out KILL US for news helicopters before bringing on a crew member that does a mean Michael Jackson impersonation (Fred Armisen). "Let's hear it for The Captain, everybody!"
Funny bit. So far so good for what I expect to be a great show.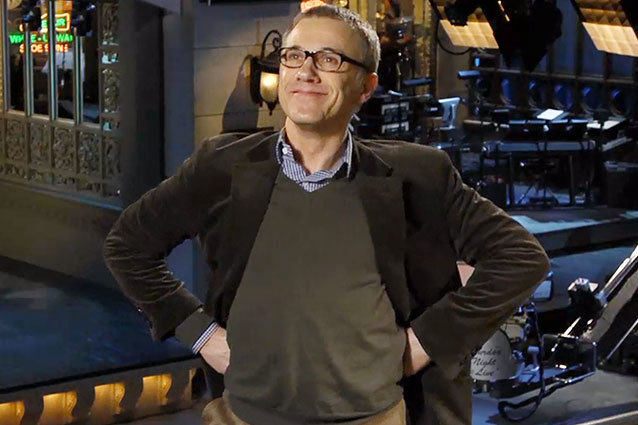 Tonight's Host: Christoph Waltz
Christoph's monologue focused on his Austrian heritage before displaying his singing abilities with "Smile, Damn You, Smile".
The first skit featured Waltz as Matt Montgomery, the host of America's Newest Gameshow. Contestants Donald Lattimer (Keenan Thompson), Patrick Vance (Hader) and Merideth Fine (Aidy Bryant) all told a little about themselves before they played "What Have You Become?". The game forced the contestants to look at the failed lives they've led.
For Round 2 they brought out the oldest living relative of each contestant to ask, "What have you become?". But Merideth turned the tables on the host and asked him "What have you become?". Matt was forced to admit he always wanted to be a dancer but his Mother forced him to go to Game Show Host school. He then tearfully tapped off the set.
Not the worst gameshow sketch SNL has done.
A fake commercial for retirement planning for Popes, Papal Securities. Waltz was very funny as actual Papal Securities customer Pope Benedict XVI
A housewarming party for Denny (Waltz) is the scene for the next skit featuring a drunk and annoying Tippy (Nasim Pedrad) that kept interrupting everyone's conversations with questions about what she missed in their stories. This skit needs some work, but they are definitely onto a new recurring character for Pedrad.
This week's digital short was a fake movie trailer for the latest Tarantino historical revenge movie, Djesus Uncrossed. Djesus (Waltz) is back and out for payback. Brad Pitt (Killam) is St. Peter who acts and sounds quite a bit like his character in Inglorious Basterds. Ving Rames (Thompson) is Pontius Pilate "I'm gonna go all Old Testament on they ass" (think Pulp Fiction) and Samuel L. Jackson (Jay Pharoh) is Judas Iscariot.
Very funny.
That was followed by a live commercial for the latest CD from The Jamarcus Brothers, Marcus and Darnell (Thompson/Pharoh) with music to make your body tingle. It also featured the 3rd Jamarcus Brother, Englebert (Waltz). "If you close your eyes you almost can't tell which one is the adopted white virgin."
Very funny.
Musical guests Alabama Shakes performed Hold On.
Weekend Update opened with the State of the Union. One of the funnier lines was about Ted Nugent being there and it making things very uncomfortable for Senator Muledeer. Next, the Carnival Triumph snafu and how vacationing couples will always remember that "A cruise was
his
idea".
Senator Marco Rubio (Taran Killam) stopped by to explain his awkward State of the Union Rebuttal. Very funny.
A survivor of the Russian meteor, Olya Povlatski (Kate McKinnon), also stopped by to tell how she had wished for the meteor to hit her and end their rotten lives in the remote mountain village. When asked if the blast broke the glass in her windows Olya replied "Glass? What you think I am, Queen? If lucky, I have cold blast of wind coming thru window." Meyers then asks, "What if your not lucky?" and Olya said "Wolf's head!" Extremely funny.
ESPN anyalist Stephen A. Smith (Pharoh) stopped by to comment on the turbulent season of the Los Angeles Lakers. Smith then explained how he was a dear, dear friend of each and every Laker, but they had to give up their game and let Kobe win it. Good impersonation by Jay, but not nearly as funny as the other 2 guests.
Next a couples night out for dinner at Hotel Gansboort opens with 2 couples (Hader/Bayer) (Tim Robinson/Aidy Bryant) chatting as the 3rd couple walks in. It's their friend Louis (Waltz) and his new girlfriend Rajean (Fred Armisen). It's the bit from the Daniel Craig episode where bitchy, uptight Rajean goes orgasmic when you touch her just about anywhere. I thought it was funnier the first time and I didn't think it was very funny then.
This is suddenly like the Superbowl after the lights went out. A brilliant show is going downhill fast.
Perhaps redemption is at hand with Fox and Friends featuring Steve Doocey (Killam), Gretchen Carlson (Bayer) and Brian Kilmeade (Moynihan) and their take on the State of the Union address. When Gretchen complains that "it was a full frontal assault on our values" Kilmeade asks "You mean he wasn't wearing pants?" He didn't actually watch because there was a bee in his apartment.
They then played the speech backwards to reveal Obama is a Black Panther and going to smoke weed and listen to hip-hop after the speech.
They were joined by Ted Nugent (Hader) via sattelite to discuss his attending the State of the Union address. When asked what parts he didn't like, Ted replied "Allof it!" He then went on a rant about gun control and crazy people.
Next an expert from the UK Food Standard Agency, Chris Teigler (Armisen) came on to talk about the European horse meat scandal. When he explained that while culturally repelling, it would not harm consumers Gretchen steps in to offer "that it will make you run faster".
Before going to break they ran a few corrections from the previous hour. Among them "Zero Dark Thirty is not a diet soda", the T in BLT does not stand for Terrorism, Meteors are not coming to take your guns, at no time did the passengers on the Carnival Cruise ship become zombies, Marco Rubio did not bring pasta back from China, there are no Americans in the Bible, the kid on Modern Family did not start out in porn, and the similar names of North Dakota and South Dakota are not a coincidence".
Funny.
Alabama Shakes returned to perform Always Alright for their encore. I've never heard this band before but I'm very impressed. The lead guitar/singer Brittany Howard has a voice and presence that reminds me of Janis Joplin.
That gal can flat out sing!
The night's final skit was an office setting with Strong, Hader, Bayer, Thompson and Sudeikis as transcriptionists in a law firm. One of them (Strong) has a secret admirer that left a broken english note on her desk. In walks the immigrant Security guard Dimitry (Waltz) to try to explain perhaps it's a poorly worded Valentine and not a threat from a stalker. It quickly becomes apparent to everyone except Strong who it's from as Dimitry tries in vain to blame someone. It even included an uncomfortable photo of Dimitry leaning on a Lamborghini. This disturbs Strong even more because now the guy is also stalking Dimitry. Her conclusion is they must stay close to each other and keep a watch out for the stalker. Happy ending for Dimitry.
Then she finds another note on her desk and all it has is a picture of a black man's junk. At this point Keenan Thompson stands up and asks "OK, which one of you is responsible for doing this?"
Sweet and funny.
I had high hopes for this episode and for the most part, it lived up to them. The digital short was a classic and the only weak point was right after Weekend Update. The music was fantastic and Christoph Waltz was flawless as Host.
I give it a solid A.