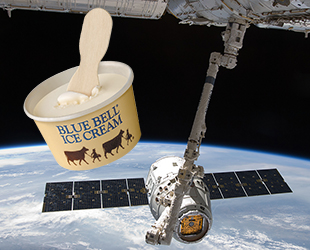 Among the important cargo onboard the SpaceX Dragon capsule is material to create Silly Putty as well as ice cream.
The ice cream tagging along on the space flight that launched Sunday night from Cape Canaveral, Fla is none other than our beloved Blue Bell. The capsule is expected to reach the International Space Station on Wednesday.
The Blue Bell will be stored in GLACIER, or General Laboratory Active Cryogenic ISS Experiment Refrigerator. Primarily used to preserve science samples that require temperatures between -301 and 39 degrees Fahrenheit on the way to or from the space station, it makes a dandy ice cream transporter. The mini-fridge sized freezer previously flew aboard the space shuttle.
All space station crew members, regardless of their home nation, spend time training for their expeditions at Johnson Space Center in Houston, and everybody knows Blue Bell dominates the market in Texas.
As such, the Blue Bell Sundae Ice Cream Cups should be especially welcome by Expedition 33's commander, NASA astronaut Sunita Williams, as well as flight engineers Yuri Malenchenko of Russia's federal space agency and Japan Aerospace Exploration Agency (JAXA) astronaut Akihiko Hoshide.
Blue Bell isn't a space rookie. Far from it. In 1995, astronauts aboard the space shuttle Atlantis first took Blue Bell along for the ride. In 2006 it made it's first visit to the ISS delivered by, ironically, Atlantis.