Somebody for got to charge their PDA before they went to Texas Motor Speedway. I'm not mentioning any names or pointing any fingers, but you would have thought that person would have at least packed a charger for said PDA. Again, not pinning the blame on any one person...
So, the pictures and live blogging I promised you were not to be. That's probably a good thing now that it's all said and done because all you would have seen was a lot of dust. I mean a LOT of dust. The campground we were in seriously needs to do something about that.
The luxurious living quarters Brother In Law and I were told we'd stay in were not to be. We lost our freebie camper to paying customer that needed it on a jobsite. Fortunately the weather was perfect and we had a very nice tent to stay in. It would have been even nicer if someone had remembered to take their queen sized air mattress. But it was sitting beside the phone charger.
OK, enough bitching. This was a vacation and I did have a great time.
The truck race on Friday night was excellent. Those guys always put on an exciting show. After the race we headed back to camp and put on our costumes for Trick or Treating over at "Ti**y Row". Now that was the biggest letdown of the weekend. The police decided this party was not happening. They basicly flooded the street with cop cars and stopped anything that resembled adult entertainment from breaking out. I'm all for public safety, but c'mon guys... this is our Mardi Gras! So after a couple hours of everyone standing around looking at each other waiting for the cops to clear out we gave up and returned to our campground on the other side of the track. Things were a bit livelier over there but everyone agreed this year was not the party it had been previously. There was a much bigger crowd at the April race. I did hear Rachel Ray talking about getting loaded on moonshine jello shots at a campground party listening to 105.3FM. I looked around but never found her. Now THAT would have been a party. I had some special beads just for her.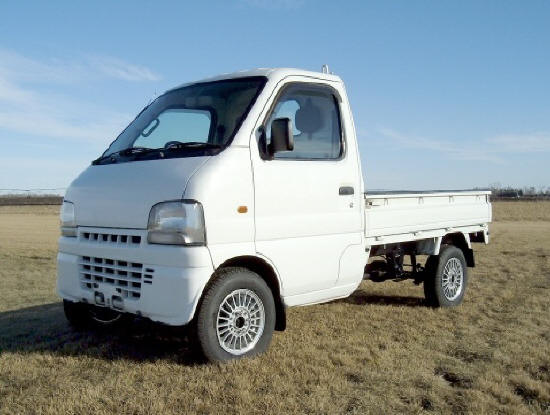 There is a subculture in NASCAR campers that involves not walking from point A to point B. Golf carts, scooters, 4-wheelers, motorized toilets (I saw one) and anything else you can think of are all the rage. If you've been to a few races you know why. The place is huge. Lugging loaded icechests and gear around is for the birds. After the last race South40 readers will remember I bought a Suzuki Carry minitruck. That was a great purchase. We were able to cover a lot more ground and have a ton of fun meeting other people. It's 660cc gas engine allowed us to roam as long as we wanted without worrying about a battery running down and walking back. It's 4x4 ability also allowed us to bypass traffic and go cross country thru the dirt parking lots and over the high dirt berms while loaded down with passengers and icechests. The righthand drive also made it a great conversation piece. The steering wheel isn't on the wrong side, it's on the RIGHT side.
Saturday the Nationwide Series drivers took the track and had a great race. It was an exciting finish as Carl Edwards came thru the pack like rocket to finish 2nd. Kyle Busch managed to unite the crowd for the loudest "BOO!" I can remember hearing when he took a bow with the Checkered Flag after winning. Kind of appropriate with Halloween and all. Man, people hate them some Kyle Busch in Texas.
That night the real party got started. Bands were playing all over the place. The best of the bunch was just down the row from us in our campground. One of the area oilfield companies hired a band called Armadillo Express that put on a heck of a show. They were definitely the best I have ever seen out there and drew a huge crowd. I'd estimate 500 or so people were there. I took my Suzuki, put a few chairs in the back and parked near the edge of the stage. This worked out great. We were able to use it as a rally point for our group and it made for nice seating to enjoy the show. I was also able to use my laser projector to help add to the party.
While sitting back enjoying the band from my perch singing along to a great version of Shooter Jennings 4th of July, I noticed a Cute Little Racegirl standing all alone in the crowd. Nobody was asking her to dance. Clearly, something had to be done about this.
I hopped down and made my way thru the crowd just as the band started playing "Sweet Emotion". It took a bit of coaxing but I convinced her anyone can dance to Aerosmith. We would up dancing together for the rest of the night. Turns out she's single and lives near The South40! I now have an official CLR's phone number! I just have to force myself to adhere to the 3 day rule so I don't look like a desperate lonely internet blogger.
Sunday was the big day with the Sprint Cup race. The crowd had easily tripled from the day before and the campgrounds were much fuller, but none of them were full. We heard there were 75,000 unsold seats for the race. My niece and her friend came but they needed tickets. We decided to take my Suzuki and cruise the parking lots looking for tickets. We found several scalpers and the girls would up buying a pair of very good front stretch tickets for $40 each. To make sure the tickets were valid we drove to the gate and had them scanned. They were good!
We drove back to camp and ate lunch before the race. Those $5 hotdogs at the track are for the birds! Just as we were finishing lunch our host came by with 6 extra tickets. The girls quickly took 2 and headed back to the parking lot to sell the ones they bought. Not only did they sell them, they sold them for $75 each! After the race the made another $40 hauling people out of the racetrack on one of our golfcarts when 2 guys offered them $20 a piece for a ride.
Speaking of the race (that was the whole point of the weekend, right?) it was a humdinger! There was plenty of side by side racing, exciting pit strategy and wrecks for those looking for that. One of the highlights of the day was the wreck between Juan Pablo Montoya and David Gilliland. I had Dale,Jr on my scanner at the time and he was right behind them when it happened. He said they had been running into each other for 3 laps. Finally coming out of Turn 2 on lap 263 Gilliland decided to take Montoya out. He came from near the wall across 2 lanes and slammed into JPM's right rear sending them both into a spin right in front of Junior.
Jr remarked that driving like that would get you banned from the DMP (Dale's virtual racing team) and there was going to be a fight in the pits. Looks like NASCAR was thinking the same thing because they gave Gilliland a 5 lap penalty. He wound up taking it to the garage where the predicted fight almost broke out. JPM's crew chief managed to keep his driver out of the scuffle but the Jumbotrons showed the whole thing to the fans in the stands. I'm not a JPM fan, but there's no place for that kind of driving at TMS. Save it for Bristol.
Conspiracy theories were abound as Jamie McMurray was in the lead with 12 laps to go ahead of his Rousch/Fenway teammate and championship contender Carl Edwards. They called for McMurray to pit for fuel and Edwards stayed on the track and won the race. Edwards even remarked about "Ford fuel milage" on the scanner. Hmm, McMurray had the same amount of fuel as Edwards. But, Jamie's not fighting for a championship either.
After the race we made our way back to camp and decided not to spend the night. We ate dinner while the crowd thined out before breaking camp and heading for home. I finally made it home about midnight and immediately took a long hot shower to wash of the several layers of TMS dust off my tired sunburned body. Fortunately I had planned in a couple extra vacation days to recover because I sure needed it today.
BIL and I plan to get our own camp next race. It's fun to hang out with the group we do, but we tend to run out of energy before they do and it's tough to get some sleep with people constantly trying to wake you up and party with them.
All said and done with, everyone had fun and nobody got hurt. I also met a cute little racegirl.
Good times.