Oh I've seen fire and I've seen rain.
After being delayed 29 Hours and 45 minutes because of rain the 2012 Daytona 500 finally got underway a little after 6pm Monday. Almost immediately the crashes began with Jimmie Johnson, Trevor Bayne and Danica Patrick among those taking significant damage during a multi-car wreck on Lap 2. Patrick would return 56 laps down and finish the race. Johnson did not.
Jeff Gordon blew his engine bringing out another caution and with 40 laps remaining Juan Pablo Montoya was hurrying to catch up to the back of the pack following the pace car when something broke on his car sending him spinning into a jet powered track blower. The blower and truck pulling it burst into flames. The jet turbine dryer carries around 200 gallons of jet fuel and the truck around 50 gallons of diesel. On track firefighters were not outfitted to battle a fuel fire of that size and intensity. It took several minutes to contain the fire and now damage to the racing surface is a huge concern.
Updates to come.
Update 1: 9:23pm The safety truck and dryer were removed from the track with 2 "Gradall" forklifts, but the dryer trailer scraped the asphault badly. That is not an area where you want a dip in the road. Safety crews have told drivers to get out of their cars. This will be a lengthy red flag.
JPM was treated and released from the Infield Care Center. The driver of the safety truck was flown to Halifax Medical Center.
Update 2: 9:57pm NASCAR says race will resume in about 30 minutes. Tide laundry detergent being used to clean the fuel off the track.
Driver of the safety truck Dwayne Barnes is under observation at Halifax Medical Center.
During the Red Flag there was another explosion. This time it was on Twitter.
Brad Keselowski
becomes the first driver in NASCAR history to Tweet pics during a race. Drivers huddled around Keselowski who had carried his phone with him in his pocket. It soon became evident just how fast social media works. He started the race with 65,000 followers and
picked up over 100,000 new followers in one hour
! His total peaked at over 200,000!
@
keselowski
Well, now Daytona has Juan less jet dryer..."
Update 3: 11:09pm Green Flag!
Update 4: 11:56pm Congratulations to Matt Kenseth, 2012 Daytona 500 winner!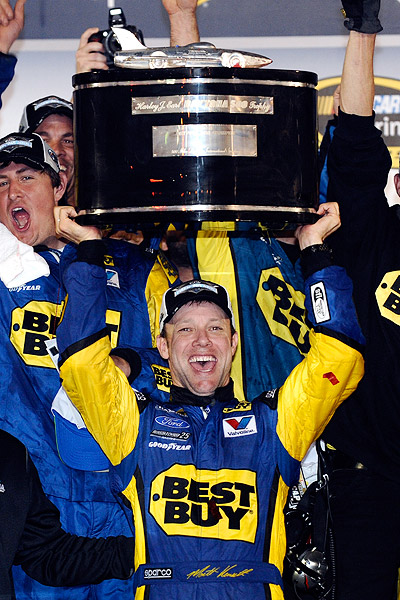 Race recap courtesy of SportsCenter: